Project Swasth Bharat
Anti tobacco / De-addiction: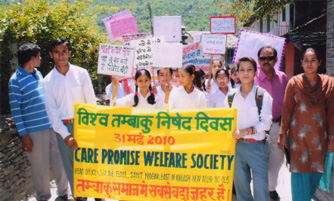 This is another unfortunate gift of modernization of the Society to the mankind. Needless to say that the habit of smoking / tobacco chewing / using pan masala,Khaini or Zarda is leading to the continuous increase in the number of Mouth Cancer patients. Our Society try to educate masses and school children by giving lectures in Market Places, Slums and distributing leaflets /showing bad effect of cigarette /actual photographs of mouth cancer patients to bring home the points related to use of tobacco. We have also tied up with various de-addiction centers so that cases of abuse of alcohol and drugs can be sent to them for reforms.
Health Check-up Camps
Though everybody knows that "HEALTH is WEALTH " but due to human tendency specially in our country, people keep on avoiding visits to the hospitals for diagnose of probable disease on some pretext or the other. Our Society therefore decided to reach the door steps of the people in different localities and arrange a free health check-up. We are having an expert team of doctors who come forward for this noble cause.
Details of the Projects Implemented By the Organization
WHAT WE HAVE ACHIEVED SO FAR
Activities
Details

Project "Swasth Bharat"

Cancer/Hepatitis-B/De-addiction/Anti-TobaccoPublic Awareness project

Cancer & Hepatitis Awareness camps held Street & stage plays held for social awareness De-addiction camps held.

General health check-up / Awareness Camps

No of camps held

200
86
7

500