A. Free Charitable Dispensaries.
B. Free Street and Stage Plays.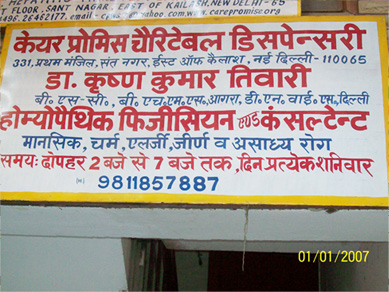 The present age and modernization has given birth to many kind of dreadful diseases and dietary related problems hither-to unknown in ancient India. Problem is more acute for people below poverty line. Not only their sufferings continue but family members also undergo the mental agony silently. To reduce their sufferings, our society is doing its humble bit by taking care of such patients and providing moral and monetary support. Their help however depends purely on the donations given by kind hearted people.

We are also conducting free street and stage plays on dreadful diseases to sensitise the people in various slums and also to locate and identify new patients.

Three charitable dispensaries at different locations are being run by our N.G.O covering day to day and chronic diseases of the people.


C. Free Family Counseling Centre.
D. Free Vocational Training in stitching for the Needy

The focus of our society is on educating people on legislation and its enforcement to prevent social crimes against women. Our Objective is to do publicity work for prevention of atrocities on women viz, rape, dowry deaths, wife-beating, alcoholism, eve-teasing etc,
We try to visit door to door in slums, identify and help such unfortunate women affected by atrocities. A Free Family Counseling Centre is being run in the premises of our office together with a 24 hours helpline to help such women. Free vocational training in stitching is arranged for the needy.